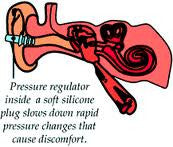 Earplanes for flying
Flat Rate Shipping
NZ wide shipping $6.95.
Free shipping on all orders over NZD$60!
---
Earplanes for flying

EarPlanes relieve painful ear discomfort, clogging, popping and temporary or permanent hearing loss associated with air travel. Such a brilliant product that makes air pressure discomfort a thing of the past.

Essential travel earplugs that protect ears from rapid cabin pressure changes when worn during take-off or landing. Great if you are flying with a cold, allergy or sinusitis. These earplugs automatically reduce discomfort with their exclusive CeramX filters that regulate air pressure during takeoffs and landings
EarPlanes consist of two elements: a hypoallergenic silicone ear plug and a ceramic pressure regulator. The silicone earplug has four circumferential rings which provide an airtight seal between the product and ear canal. The ceramic element is a controlled porosity filter, one end of which is exposed to the external cabin pressure, with the opposite end exposed to the sealed chamber formed when the ear plug is inserted in the ear. Thus, as the cabin air pressure changes, a pressure differential is created across the ceramic filter, thereby causing air to flow through the filter. The filter acts as an impedance to the flow of air into and out of the ear canal.

Tested by U.S. Navy pilots and recommended by doctors!!!!

Don't take of without them!

Package contains one pair of EarPlanes. 
Manufacturer recomends to use for 2 flights.
Also available in kids size.
---
Share this Product