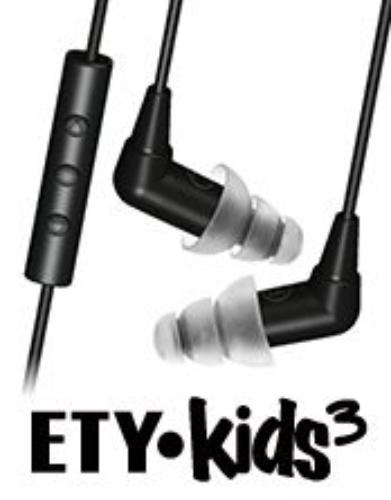 ETY-Kids volume limiting earphones
Flat Rate Shipping
NZ wide shipping $6.95.
Free shipping on all orders over NZD$60!
---
Etymotic means true to the ear and Etymotic are leaders in sound technology and these earphones are no exception. Crisp clear sound with noise cancelling technology and comfy ear tips. With their very comfortable tips adults can use these too!
Ety Kids 3 earphones with noise cancelling and volume limiting technology for safe listening
Top quality volume limiting earphones for kids and adults. Great small size means they are great for kids (and adults alike)  with a comfortable small fit.
Features
3 button Apple control with in line microphone
6-mm neodymium moving coil drivers
85% + sound accuracy using Etymotic ACCU Chamber technology
Smaller size for a comfortable fit for all ears
Reduced sensitivity for safe sound output

Designed to work with Apple iPod and iPhone

Available in Black
It's about children.
It's about hearing for a lifetime.
Today's tech-connected kids live in a high-def world. They experience Blu-ray, surround-sound, life-like computer graphics and 3-D movies. They are bombarded by sound from television, toys, game consoles, music players and in-vehicle entertainment systems.
ETY•Kids safe-listening earphones are engineered for safe sound output while maintaining Etymotic's exceptional sound quality. By controlling earphone sensitivity, it is not necessary to restrict the volume setting on the player.
Sound heard through ETY•Kids earphones will not exceed safe levels, so parents can rest easy. Even at the maximum volume setting on portable players, kids can listen safely for up to four hours per day. And because ETY•Kids earphones block background noise, and provide high-definition sound quality, kids will be able to hear every detail, and won't complain that the volume is too low.
Features
For ages 4+ and anyone overly sensitive to loud sound
Engineered for safe sound output*
High-definition sound experience
ACCU•Fit eartips ensure a good fit in small ears
---
Share this Product