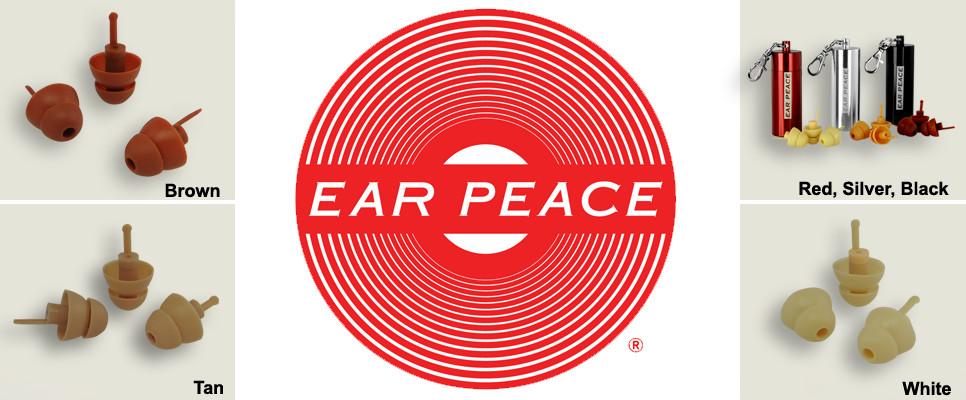 EarPeace
Flat Rate Shipping
NZ wide shipping $6.95.
Free shipping on all orders over NZD$60!
---
EarPeace for musicians, concert goers, DJ's and travellers.
EarPeace will improve your live music or nightlife experience. You'll hear clearly, feel better, and play longer. These are the perfect ear plugs for concerts and nightclubs. EarPeace is comfortable, reusable and stylish. No more ringing ears!
EarPeace are the best ear plugs for any fan who wants high quality sound and great hearing protection. The high fidelity design delivers crisp, clear sound - perfect musician or DJ ear plugs. EarPeace also delivers comparable protection to custom ear plugs at a fraction of the cost. EarPeace are the concert ear plugs.
EarPeace is comfortable and stylish. They are skin toned and very low profile. EarPeace are discreet, invisible ear plugs. The patented tab design allows you to control exactly how they fit in your ear and remove them easily. The sleek, stylish aluminum case is laser etched, anodized aluminum and comes with a caribiner to click onto your keychain. EarPeace fits your lifestyle. EarPeace is ear protection innovated. Professional quality performance at a fraction of the cost.
 Testing Method and Results
EarPeace were designed to be the best ear plugs for concerts, nightclubs, and other environments where you want to hear clearly. They were also designed them to be highly effective at protecting your hearing.  There are several key features that enable EarPeace to deliver such high quality sound and still protect your hearing.
The attenuation filter (the plastic mechanism inside of the silicone ear plug) is engineered to allow a precise amount of unobstructed sound into the ear.  This delivers clear sound, just at a lower volume.  

EarPeace is made out of safe, strong, hypoallergenic silicone.  It's also very soft.  This combination of soft and strong enables the silicone to fit snugly in nearly anyone's ear and form a tight seal.

The patented 'tab feature' enables you to safely grasp the ear plug and insert it deep into the ear canal, AND, remove it easily and safely.  
The NRR testing method is comprehensive and employs live subjects to test ear plug performance. EarPeace was tested at the Michael Associates lab using the most up-to-date testing protocol.  The NRR testing results show that EarPeace delivers 11+ to 17+ decibels of protection.  This means that 80% of people will get more than 11 decibels of hearing protection and 20% of people will get more than 17 decibels of hearing protection.  This range is due to many variables such as ear canal size and following instructions. 

If users carefully follow the instructions, EarPeace can deliver more than 17 decibels of protection, which means EarPeace can reduce the sound pressure by more than 75%.  Even better, this attenuation (or decrease in volume) is nearly even across the upper sound spectrum, filtering out unnecessary audio overload and delivering high quality sound.
---
Share this Product